If you have any question or if you wish to book me for your wedding date, don´t hesitate to contact me. Please use my contact form and send me an e-mail with as much detail as possible. I also welcome phone conversations if you prefer, in which case please feel free to call instead.
I'm based in Prague, Czech Republic. However I am more than happy to capture your wedding story abroad on request.
Email: info@radekcepelak.com
Tel: +420775170100 (WhatsApp and Viber connected)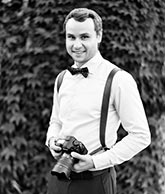 Radek Čepelák
Wedding Photographer
Ing. Radek Čepelák, natural person registered since 13.05.2013 in trade register with ID number 01683870, place of business Borského 663/4, 152 00, Prague.
Ref. No. MCP2/050714/2013/OZ-REG/Pro. Supervised by Authority Prague 5. Non-payer of VAT.